Buried in Boxes! (Extended Break)
on
March 10, 2023
at
7:00 am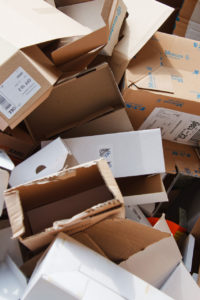 As might be expected when closing on and moving to a house, things did not go as expected. The close date got pushed, shortening the window for moving and – needless to say – I am buried in boxes! And in a few of those boxes, somewhere, are the items I need to get to work on Gobo Gazette. I hinted in the 2022 season cliffhanger that an extended break might follow it. That is what I am looking at right now.
But don't fret! You might have noticed in the GG news that SpiderForest is running there Comic of the Week promotion. So if you are looking for something to read as badly as I am looking for my penciled panel work, check out the links in the posts below! Already did? Well go to SpiderForest direct and search their catalogue of webcomics. Who knows… you just might find a new favorite to follow!
I might be buried in boxes but I do see light peeking through the cracks! And despite injury and transit of my abode getting in the way, I aim to get the 2023 season started off properly on March 17th. (March 24th at the latest – just covering my posterior.)
Thank you for your patience and, as always, be careful out there.