Behind the Scenes: The Winding River
on
October 12, 2018
at
7:01 am
As mentioned in today's comic, we are starting the final chapter of Gobo Gazette's first year. It is also a great opportunity for a behind the scene spotlight. I'll set up a section on the website if this becomes a (semi-)regular thing. The topic of this post will be the winding river that Hob and Nob see for the first time at the beginning of chapter 5.
First, let me define what tools I use to create the webcomic. Every artist uses what is the most comfortable for them and, for me, I have been using these for a very long time. After doing a pencil draft on 9″ x 12″, 50 lb recycled sketch paper, I ink with Picma pens. I use a Graphic 1 for the primary outlines and Microns of varying sizes for details. This is the first time I experimented with the Picma Brush pen on the comic. I found it worked well with the foreground branch and leaves. When it came to the crow overlooking the gobos and the winding river, I stopped after a few strokes. I felt more confident to ink the bird with the Graphic because of the details.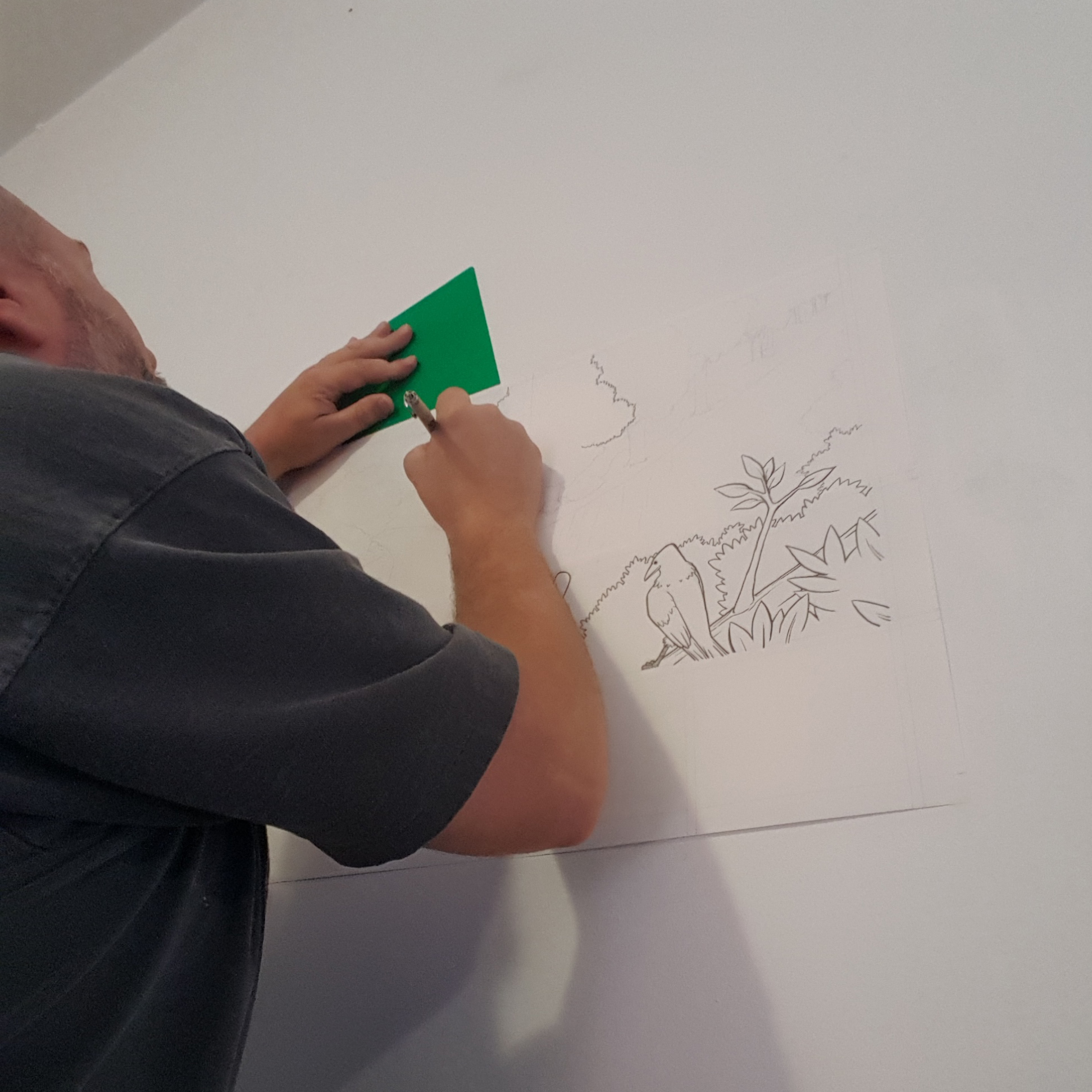 I actually create the standard four-panel strips in a two-by-two layout, which I rearrange, edit and color in Photoshop. Usually this is not an issue, however it did pose a problem with the 3 x 4 layout of the winding river. I actually taped the four pages together, and then taped it to a wall to ink. I normally use and highly recommend a pencil board so that pencil marks or ink doesn't transfer to the next page. To avoid issues with the wall texture, I used it here for a smooth surface to ink on. This tape method will likely be employed for all future large-scale images. Why not get an easel? My little boy! Right now he is a wrecking machine!
I have done 100% digital artwork and used larger sheets of paper in the past. It might be a bit of a hassle, but going analog and small does allow me to work on the comic anywhere I go.